Berkeley ImageSegbis-2
python environment is virtualenv; found a recipe to run ipython
notebook from within

source activate ENVNAME
pip install ipykernel
python -m ipykernel install --user --name ENVNAME --display-name "Python (whatever you want to call it)"

ETL Openstreetmap Buildings Import
* libosmium tool scripted
input is California-latest.pbf filtered by tag "building"

Code: ECN_osm_import Github -LINK-
Report: Summary Counts -CSV-

—



Not all data is as expected; a LINESTRING marked "building" -LINK-

-----------------------------------------------------------------------
gid       | 5
id        | 13863133
tags      | "name"=>"Gymnasium","building"=>"yes","created_by"=>"Potlatch 0.5c"
version   | 2
changeset | 600831
timestamp | 2007-11-23T17:48:58Z
uid       | 2376
user      | Bman
geom      | 0102000020E6100000050000009EFB613A63465DC02D1D18E53E05414033EF82D261465DC0ACF188C047054140E1AB675254465DC04411F7FD400541404BB846BA55465DC0A21EEC5E380541409EFB613A63465DC02D1D18E53E054140
-[ RECORD 6 ]-------------------------------------------------------------------------------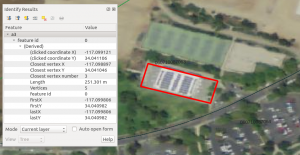 Some interactive manipulation of post-import stats: -LINK-
Jupyter Notebook Tech Available: -LINK-
---
California Air Resources Board — 2030 Scoping Plan UPDATE -LINK-
ref. page 95 Section IV Key Sectors
… The Governor's Green Buildings Executive Order B-18-12 for State buildings and the California Green Building Standards (CALGreen) Code 130 are key state initiatives supporting emission reductions associated with buildings, and some local governments are taking action by adopting "beyond code" green building standards…
Section 3: Efforts to Reduce Greenhouse Gases
…
Ongoing and Proposed Measures – Electricity
ref. page 103
Per AB 802, adopt the forthcoming CEC regulations governing building energy
use data access, benchmarking, and public disclosure.

18 Jan 17
Automated Ingestion Setup — California AB 802 Support
========================================================
Backup

  * 50GB BluRay Dual-Layer disk capacity
    burn time ~120 minutes  for one disk
    ATAPI: PIONEER BD-RW   BDR-207D, 1.21
    Ridata BD-R DL Media  $3/disk for 25 at Frys

  * Disk-to-Disk
    75GB/hour for USB connection
    300GB/hour for eSATA

geodatamine_f2 compressed backup 13GB
NAIP compressed backup 2000GB
TIGER compressed backup 20GB
Hardware
Desktop: Core i7-2720QM @ 2.20GHz
Server: Core i7-960 @ 3.20GHz
Software Toolchain
Berkeley Image Seg BIS
Openstreetmap Toolchain
Openstreetmap Buildings Coverage
SF Bay Area example
18 Jan 2017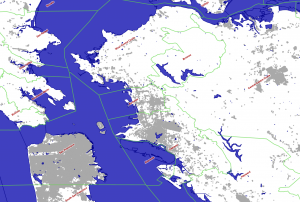 Task 2 Workflow Sketch
18 Jan 2017
11 Jan 17
Automated Ingestion Setup — California AB 802 Support
========================================================
WA 18 / Task 2
WA18 Objectives
"… develop data collection processes to compile or create existing building footprints using GIS and assign unique identification numbers to these footprints"

New Buildings Acquisition Software Stack:
Evaluation copy of Berkeley Image Seg
– Is this an acceptable component of the delivery ?
– what software environment will be delivered ?
– what documentation of the environment will be delivered ?
Example Python Worksheet from LA Buildings Import -LINK-
Example Data Browser — Berkeley Geo Library -LINK-
Example Crowd Source Project — MissingMaps -LINK-
Buildings Data Life Cycle
acquisition
storage
review stages
feedback from stakeholders
Review Stages:
Bldg Needs Review
Bldg Reviewed – OK
Bldg Reviewed – Flag Serious Errors
Bldg Reviewed – Flag needs improvement (re-review)
Coverage Assesment:
CoStar coincident
CoStar no match count
Team
Ten Weeks Left — Making the Most of the Time
* What are the blockers to getting Garlynn started ?
– NORESCO agreement / invoicing
– confidentiality
– other?
Server i7d
– postgresql / postgis network config
– geoserver config
– NAIP mapserver config
– storage ! 2x1TB | 2x3TB | 2x4TB | RAID1 boot

dbb@i7d:
Filesystem      Size  Used Avail Use% Mounted on
/dev/md0p1      218G  122G   85G  60% /
/dev/sdg1       2.7T  1.2T  1.5T  45% /mnt
/dev/sdf1       917G  167G  705G  20% /mnt
/dev/sdd        2.7T   73M  2.6T   1% /mnt
/dev/sdb1       3.6T  2.7T  765G  79% /mnt
/dev/sdc1       3.6T  942G  2.5T  28% /mnt
/dev/sdh1       917G  647G  224G  75% /mnt

01 Jan 17
Data Integration pre-Setup — California AB 802 Support
========================================================
* Rebuilt i7d Linux Server
– PostgreSQL 9.6
– PostGIS 2.3
– GEOS 3.6
– osm2pgsql 0.91(p)
new drives to replace four year old disks… lots of file management.. deferred librarianship
* First experiments with Berkeley ImageSEG
21 Dec 16
Data Integration pre-Setup — California AB 802 Support
========================================================
* Berkeley ImageSEG
– email license terms with James
* Similarity Measures JTS Interface
– -LINK-
* Example Work Context
– EPA POINT in Davis, California -LINK-